Redondo Beach, CA HP DesignJet Plotter Printer Repair | Service
June 15, 2020
Redondo Beach, Ca HP DesignJet Plotter Printer Repair Same-Day Fast Onsite Service in Southern California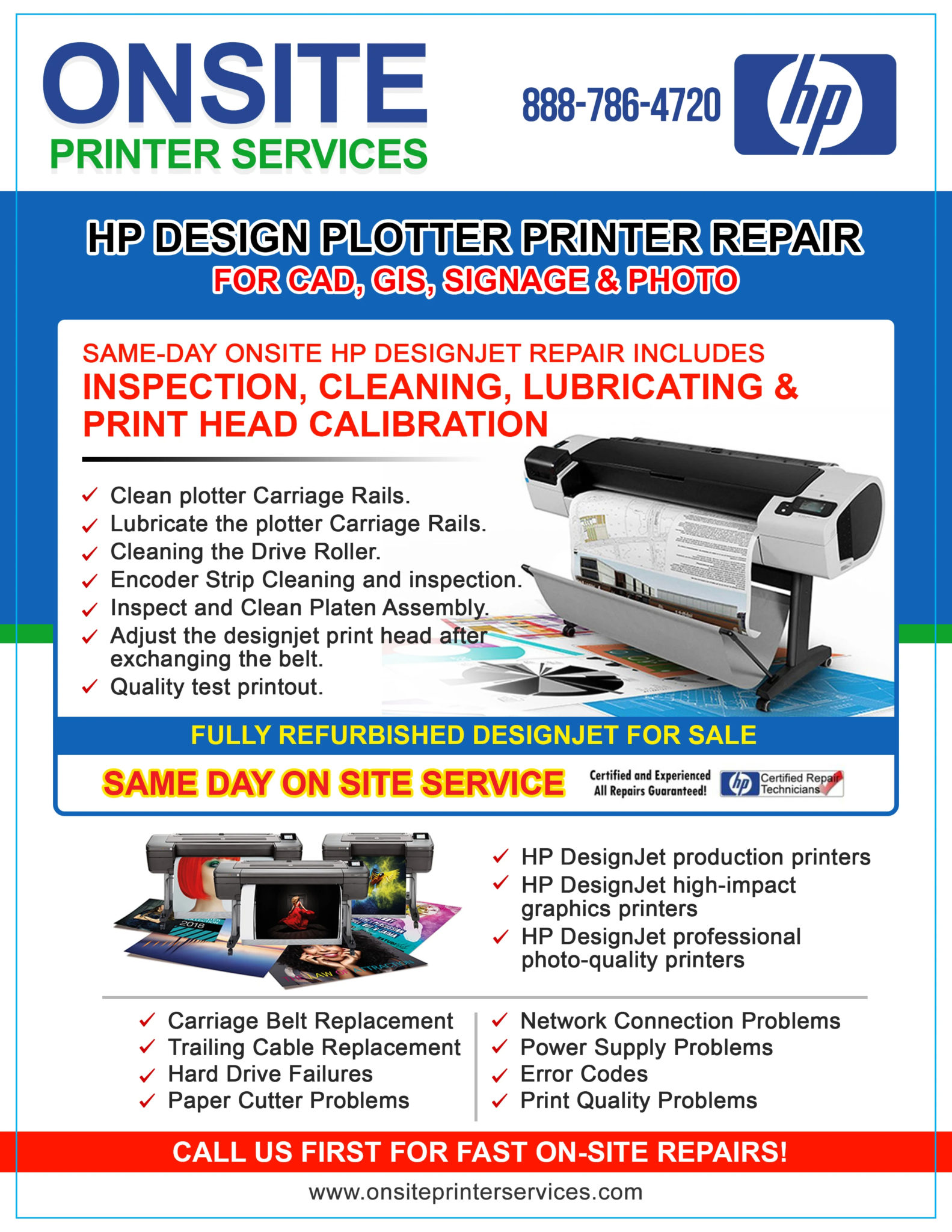 Same-day onsite Design Jet color and black & white plotter service includes inspecting, cleaning, lubricating and print head calibration!
Clean Plotter Carriage Rails.
Lubricate the Plotter Carriage Rails.
Cleaning the Drive Roller
Encoder Strip Cleaning and inspection.
Inspect and Clean Platen Assembly.
Clean the entire HP plotter.
Calibrate the plotter print head after replacing the belt.
Calibrate the Color after the plotter maintenance service.
Quality test printout.
HP Plotter Repair – Same-day Design Jet Plotter Service at your site!
HP DesignJet T730 Printer repair, HP DesignJet T830  Multifunction Printer Repair, HP DesignJet Z9+  PostScript Printer Repair, HP DesignJet Z6 PostScript Printer Repair , HP DesignJet T530 Printer Repair, HP DesignJet T130 Printer Repair, HP DesignJet Z9+dr PostScript Printer with V-Trimmer Repair , HP DesignJet Z6dr PostScript Printer with V-Trimmer Repair, HP DesignJet T525 Printer Repair , HP DesignJet T125 Printer Repair, Designjet 500 Repair , Designjet 500ps Repair, Designjet 510 Repair, Designjet T610 Repair, Designjet T620 Repair, Designjet T790 Repair, Designjet 800 Repair ,Designjet 800ps Repair ,Designjet cc800ps Repair, HP Designjet 1050c Repair ,Designjet 1055cm Repair ,Designjet T1100 Repair ,Designjet T1100ps Repair ,Designjet T1120 Repair ,Designjet T1120ps Repair ,Designjet T770 Repair ,Designjet T790 ,Designjet T1200 ,Designjet T1300 ,Designjet Z2100 ,Designjet Z3100 ,Designjet Z3100ps ,Designjet Z3200 ,Designjet Z3200ps ,Designjet 4000 ,Designjet 4000ps ,Designjet 4020 ,Designjet 4020ps, Designjet 4500 Repair, Designjet 4500ps Repair, Designjet 4520 Repair, Designjet 4520ps Repair, Designjet T7100 Repair, Designjet T7200 Repair, Designjet 2500 Repair, Designjet 2500cp Repair, Designjet 3500 Repair, Designjet 3500cp Repair, Designjet 5000 Repair, Designjet 5000ps Repair, Designjet 5500 Repair, Designjet 5500ps Repair, Designjet Z6100 Repair, Designjet Z6100ps Repair, Designjet Z6200 Repair, Designjet 815mfp Repair, Designjet T795 Repair, Designjet T2300 Repair, Designjet T2300ps Repair, Designjet T920 Repair, Designjet T930 Repair, Designjet T1500 Repair, Designjet T1500ps Repair, Designjet T1530 Repair, Designjet T1530ps Repair, Designjet T2500 Repair, Designjet T2500ps Repair, Designjet T2530 Repair, Designjet T2530ps Repair, Designjet T3500 Repair, Designjet T3500ps Repair, Designjet Z6600 Repair, Designjet Z6800 Repair, Designjet Z6610 Repair, Designjet Z6810 Repair, Designjet Scanner Repair, Designjet T520 Repair, Designjet T730 Repair, Designjet T830 Repair, Designjet L26500 Repair, Designjet Z2600 Repair, Designjet Z5400ps Repair, Designjet Z5400 Repair, Designjet Z5600ps Repair, Designjet Z5600 Repair, Designjet Z5200 Repair, Designjet Z5200ps Repair, Latex 110 Repair, Latex 115 Repair, Latex 1500 Repair, Latex 3100 Repair, Latex 310 Repair, Latex 315 Repair, Latex 3200 Repair, Latex 335 Repair, Latex 335 Repair, Latex 360 Repair, Latex 365 Repair, Latex 370 Repair, latex 280 Repair, Latex 210 Repair, Latex 260 Repair, Latex 570 Repair,Same day onsite designjet repair and service in your area near you  HP Designjet plotter repair, HP Designjet plotter service, HP plotter repair, HP plotter service, HP Designjet large format printer service, HP Designjet service, HP Designjet repair, plotter repair, plotter service, designjet printer repair, hp designjet repair, hp designjet repair service, hp designjet printer repair, hp designjet plotter repair, hp designjet service,
HP DesignJet Plotter Repair Los Angeles County
HP DesignJet Plotter Repair Los Angeles County, HP Designjet plotter repair Los Angeles,  HP DesignJet Plotter Repair Alhambra, HP DesignJet Plotter Repair Arcadia, HP DesignJet Plotter Repair Artesia, HP DesignJet Plotter Repair Avalon, HP DesignJet Plotter Repair Azusa, HP DesignJet Plotter Repair Baldwin Park, HP DesignJet Plotter Repair Bell, HP DesignJet Plotter Repair Bellflower, HP DesignJet Plotter Repair Bell Gardens, HP DesignJet Plotter Repair Beverly Hills, HP DesignJet Plotter Repair Burbank, HP DesignJet Plotter Repair Carson, HP DesignJet Plotter Repair Cerritos, HP DesignJet Plotter Repair Claremont, HP DesignJet Plotter Repair Commerce, HP DesignJet Plotter Repair Compton, HP DesignJet Plotter Repair Covina, HP DesignJet Plotter Repair Cudahy, HP DesignJet Plotter Repair Culver City, hP Designjet Repair Sony Pictures,  HP DesignJet Plotter Repair Diamond Bar, HP DesignJet Plotter Repair Downey, Duarte, HP DesignJet Plotter Repair El Monte, HP DesignJet Plotter Repair El Segundo, HP DesignJet Plotter Repair Gardena, HP DesignJet Plotter Repair Glendale, HP DesignJet Plotter Repair, HP DesignJet Plotter Repair , HP DesignJet Plotter Repair Glendora, HP DesignJet Plotter Repair Hawaiian Gardens HP DesignJet Plotter Repair, HP DesignJet Plotter Repair Hawthorne, HP DesignJet Plotter Repair Hermosa Beach, HP DesignJet Plotter Repair Huntington Park, HP DesignJet Plotter Repair City Of  Industry, HP DesignJet Plotter Repair Inglewood, HP DesignJet Plotter Repair  Irwindale, HP DesignJet Plotter Repair Northridge, HP DesignJet Plotter Repair La Habra, HP DesignJet Plotter Repair Heights, HP DesignJet Plotter Repair Lakewood, HP DesignJet Plotter Repair La Mirada, HP DesignJet Plotter Repair La Puente, HP DesignJet Plotter Repair La Verne, HP DesignJet Plotter Repair Lawndale, HP DesignJet Plotter Repair Lomita, HP DesignJet Plotter Repair Long Beach, HP DesignJet Plotter Repair Los Angeles, HP DesignJet Plotter Repair Lynwood, HP DesignJet Plotter Repair Malibu, HP DesignJet Plotter Repair Manhattan Beach, HP DesignJet Plotter Repair Maywood, HP DesignJet Plotter Repair Monrovia, HP DesignJet Plotter Repair Montebello, HP DesignJet Plotter Repair Monterey Park, HP DesignJet Plotter Repair Norwalk, HP DesignJet Plotter Repair Palos Verdes Estates, HP DesignJet Plotter Repair Paramount, HP DesignJet Plotter Repair Pasadena, HP DesignJet Plotter Repair Pico Rivera, HP DesignJet Plotter Repair Pomona, HP DesignJet Plotter Repair Rancho Palos Verdes, HP DesignJet Plotter Repair Redondo Beach, HP DesignJet Plotter Repair Rolling Hills, HP DesignJet Plotter Repair Rolling Hills Estates, HP DesignJet Plotter Repair Rosemead, HP DesignJet Plotter Repair San Dimas, HP DesignJet Plotter Repair San Fernando, HP DesignJet Plotter Repair San Gabriel, HP DesignJet Plotter Repair San Marino, HP DesignJet Plotter Repair Santa Fe Springs, HP DesignJet Plotter Repair Santa Monica, HP DesignJet Plotter Repair Sierra Madre, HP DesignJet Plotter Repair Signal Hill, HP DesignJet Plotter Repair South El Monte, HP DesignJet Plotter Repair South Gate, HP DesignJet Plotter Repair South Pasadena, HP DesignJet Plotter Repair Temple City, HP DesignJet Plotter Repair Torrance, HP DesignJet Plotter Repair Vernon, HP DesignJet Plotter Repair Walnut, HP DesignJet Plotter Repair West Covina, HP DesignJet Plotter Repair West Hollywood, HP DesignJet Plotter Repair Whittier,