Onsite Printer Services repairs and services HP Printers in Orange County, CA. HP Printer Repair Company in Orange County, Ca  is a leading provider of all your black & white, color and MFP HP printer repairs. We service all models of HP laser printers and HP DesignJet Plotters. Our Certified  HP printer technicians are experts at quickly troubleshooting and repairing HP laser printers. Our onsite HP technicians in Vernon are trained and experienced in repairing your HP printer problems. Our technician will repair your HP printer quickly and promptly and avoid any down time.
Orange County is a region in Southern California. It's known for Anaheim's  Disneyland and Disneyland Resort, a huge complex of rides, restaurants and shops. Nearby, in Buena Park, is Knott's Berry Farm, a large theme park. Cities with surf beaches include Huntington Beach, with its surfing museum. Newport Beach's boat-filled harbor sits opposite Balboa Peninsula. Laguna Beach has tide pools and oceanfront Crystal Cove State Park. Things to do in Orange County are visiting theme parks, Museums, Shopping Centers, Beaches and Golf Course.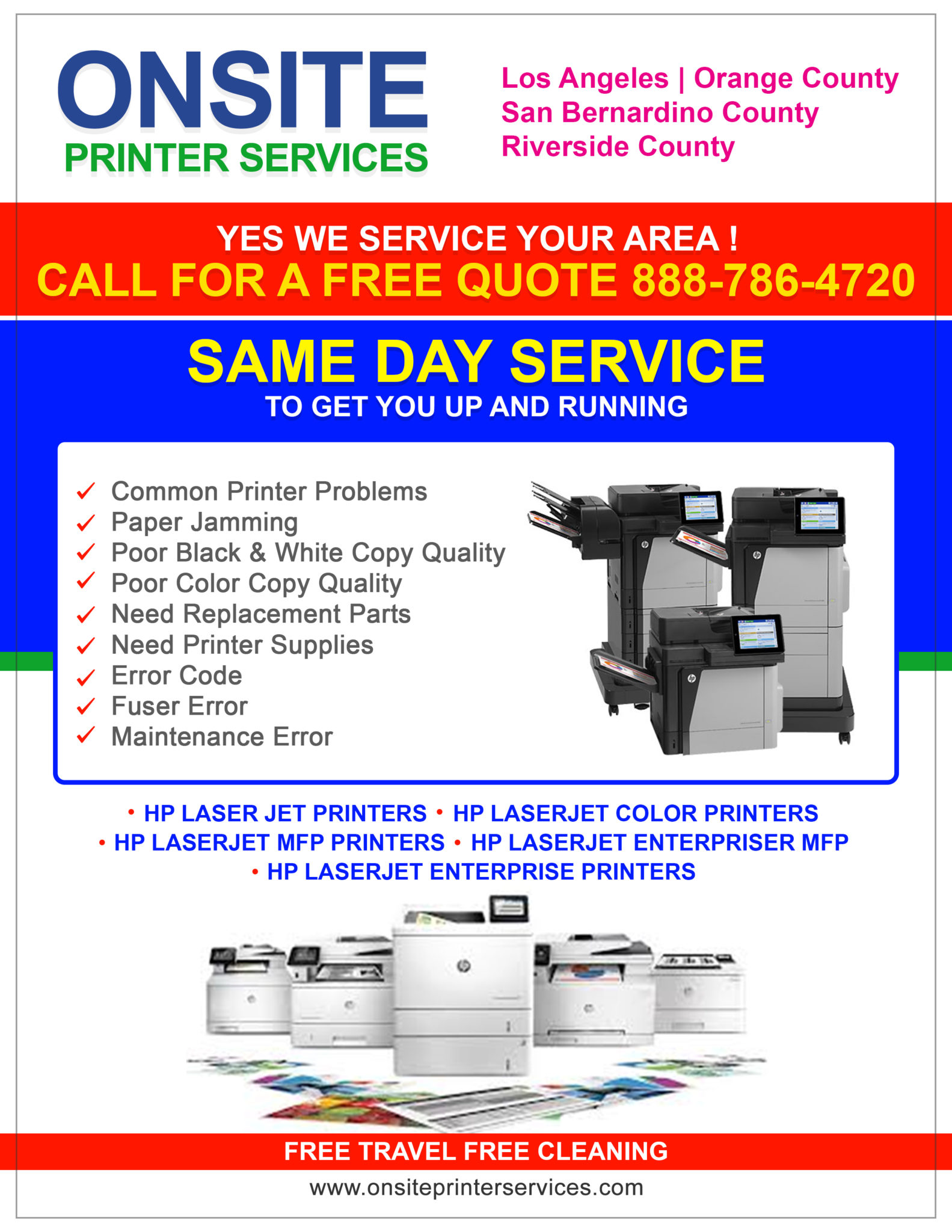 ORANGE COUNTY
Aliso Viejo, CA.
Anaheim, CA.
Anaheim Hills, CA.
Atwood, CA.
Brea, CA.
Buena Park, CA.
Capistrano Beach, CA.
Corona del Mar, CA.
Costa Mesa, CA.
Coto de Caza, CA.
Cypress, CA.
Dana Point, CA.
El Toro, CA.
Foothill Ranch, CA.
Fountain Valley, CA.
Fullerton, CA.
Garden Grove, CA.
Huntington Beach, CA.
Irvine, CA.
La Habra, CA.
La Palma, CA.
Ladera Ranch, CA.
Laguna Beach, CA.
Laguna Hills, CA.
Laguna Niguel, CA.
Laguna Woods, CA.
Lake Forest, CA.
Los Alamitos, CA.
Midway City, CA.
Mission Viejo, CA.
Monarch Beach, CA.
Newport Beach, CA.
Orange, CA.
Placentia, CA.
Rancho Santa Margarita, CA.
San Clemente, CA.
San Juan Capistrano, CA.
Santa Ana, CA.
Santa Ana Heights, CA.
Seal Beach, CA.
Silverado, CA.
South Laguna, CA.
Stanton, CA.
Sunset Beach, CA.
Surfside, CA.
Trabuco Canyon, CA.
Tustin, CA.
Villa Park, CA.
Westminster, CA.
Yorba Linda, CA.
HP LaserJet Enterprise M507dn repair, HP LaserJet Enterprise M607n repair, HP LaserJet Enterprise M608dn repair, HP LaserJet Enterprise 700 Printer M712xh repair, HP LaserJet Enterprise 700 Printer M712n repair, HP LaserJet Enterprise MFP M725dn repair, HP LaserJet Enterprise 700 Printer M712dn repair, HP LaserJet Enterprise M806dn Printer repair, HP Color LaserJet Enterprise M553x repair, HP Color LaserJet Enterprise M553dn repair, HP Color LaserJet Enterprise M653dn repair, HP Color LaserJet Enterprise M653x repair, HP Color LaserJet Enterprise MFP M681dh repair, HP Color LaserJet Enterprise MFP M681f repair, HP Color LaserJet Enterprise Flow MFP M681f repair, HP Color LaserJet Enterprise M652n repair, HP Color LaserJet Enterprise M652dn repair, HP LaserJet Enterprise M607dn repair, HP LaserJet Enterprise M608n repair, HP LaserJet Enterprise M608x repair, HP LaserJet Enterprise M609dn repair, HP LaserJet Enterprise M609x repair, HP LaserJet Enterprise Flow MFP M631h repair, HP LaserJet Enterprise MFP M631z repair, HP LaserJet Enterprise MFP M632h repair, HP LaserJet Enterprise MFP M632fht repair, HP LaserJet Enterprise MFP M633fh repair, HP PageWide Enterprise Color MFP 586f repair, HP PageWide Enterprise Color MFP 586dn repair, HP PageWide Enterprise Color Flow MFP 586z repair, HP PageWide Enterprise Color 556dn repair, HP Color LaserJet Enterprise MFP M577f repair, HP Color LaserJet Enterprise MFP M577dn repair, HP Color LaserJet Enterprise Flow MFP M577z repair, HP Color LaserJet Enterprise Flow MFP M681z repair, HP Color LaserJet Enterprise Flow MFP M682z repair, HP LaserJet Enterprise Flow MFP M632z repair, HP LaserJet Enterprise M507n repair, HP LaserJet Enterprise M507x repair, HP LaserJet Enterprise MFP M528dn repair, HP LaserJet Enterprise MFP M528f repair, HP LaserJet Enterprise Flow MFP M528c repair, HP LaserJet Enterprise Flow MFP M528z repair, HP Color LaserJet Enterprise M751n repair, HP Color LaserJet Enterprise M751dn repair, HP Color LaserJet Enterprise flow MFP M880z repair, HP Color LaserJet Enterprise Flow MFP M776z repair, HP Color LaserJet Enterprise MFP M776dn repair, HP LaserJet Enterprise MFP M636fh repair, HP LaserJet Enterprise M611x repair, HP LaserJet Enterprise M610dn repair, HP LaserJet Enterprise M612x repair, HP LaserJet Enterprise Flow MFP M634h repair, HP LaserJet Enterprise MFP M634z repair, HP PageWide Enterprise Color MFP 780dns repair, HP PageWide Enterprise Color Flow MFP 785z+ repair, HP LaserJet Enterprise Flow MFP M636z repair, HP LaserJet Enterprise M612dn repair, HP LaserJet Enterprise Flow MFP M635z repair, HP LaserJet Enterprise MFP M635fht repair, HP LaserJet Enterprise MFP M635h repair, HP LaserJet Enterprise M611dn repair, HP LaserJet Enterprise M612dn,
HP LaserJet Printer Only Prints
HP LaserJet Enterprise M507dn, HP LaserJet Pro M501dn, HP LaserJet Enterprise M607n, HP LaserJet Enterprise M608dn, HP LaserJet Enterprise 700 Printer M712xh, HP LaserJet Enterprise 700 Printer M712n, HP Color LaserJet Professional CP5225dn Printer, HP Color LaserJet Professional CP5225n Printer, HP LaserJet Enterprise 700 Printer M712dn, HP LaserJet Enterprise M806dn Printer, HP Color LaserJet Enterprise M553n, HP Color LaserJet Enterprise M553x, HP Color LaserJet Enterprise M553dn, HP Color LaserJet Enterprise M653dn, HP Color LaserJet Enterprise M653x, HP Color LaserJet Enterprise M652n, HP Color LaserJet Enterprise M652dn, HP LaserJet Enterprise M607dn, HP LaserJet Enterprise M608n, HP LaserJet Enterprise M608x, HP LaserJet Enterprise M609dn, HP LaserJet Enterprise M609x, HP LaserJet Enterprise M507n, HP LaserJet Enterprise M507x, HP Color LaserJet Enterprise M751n, HP Color LaserJet Enterprise M751dn, HP Color LaserJet Enterprise M856dn, HP Color LaserJet Enterprise M856x, HP LaserJet Enterprise M611x, HP LaserJet Enterprise M610dn, HP LaserJet Enterprise M612x, HP LaserJet Enterprise M612dn, HP LaserJet Enterprise M611dn