Ontario-Ca HP Printer Repair | HP Printer Service
April 12, 2020
HP laserJet printer repair Ontario, Ca San Bernardino County, Free Printer delivery and setup in your office or home. Our IT support technician and printer technician is available to assist. Onsite Printer Services IT Support and IT Services will maintain your HP LaserJet Printers to work smoothly with your printing job. IT Support technician will maintain your printer by installing printer driver and software to solve technical problems you'll encounter while printing.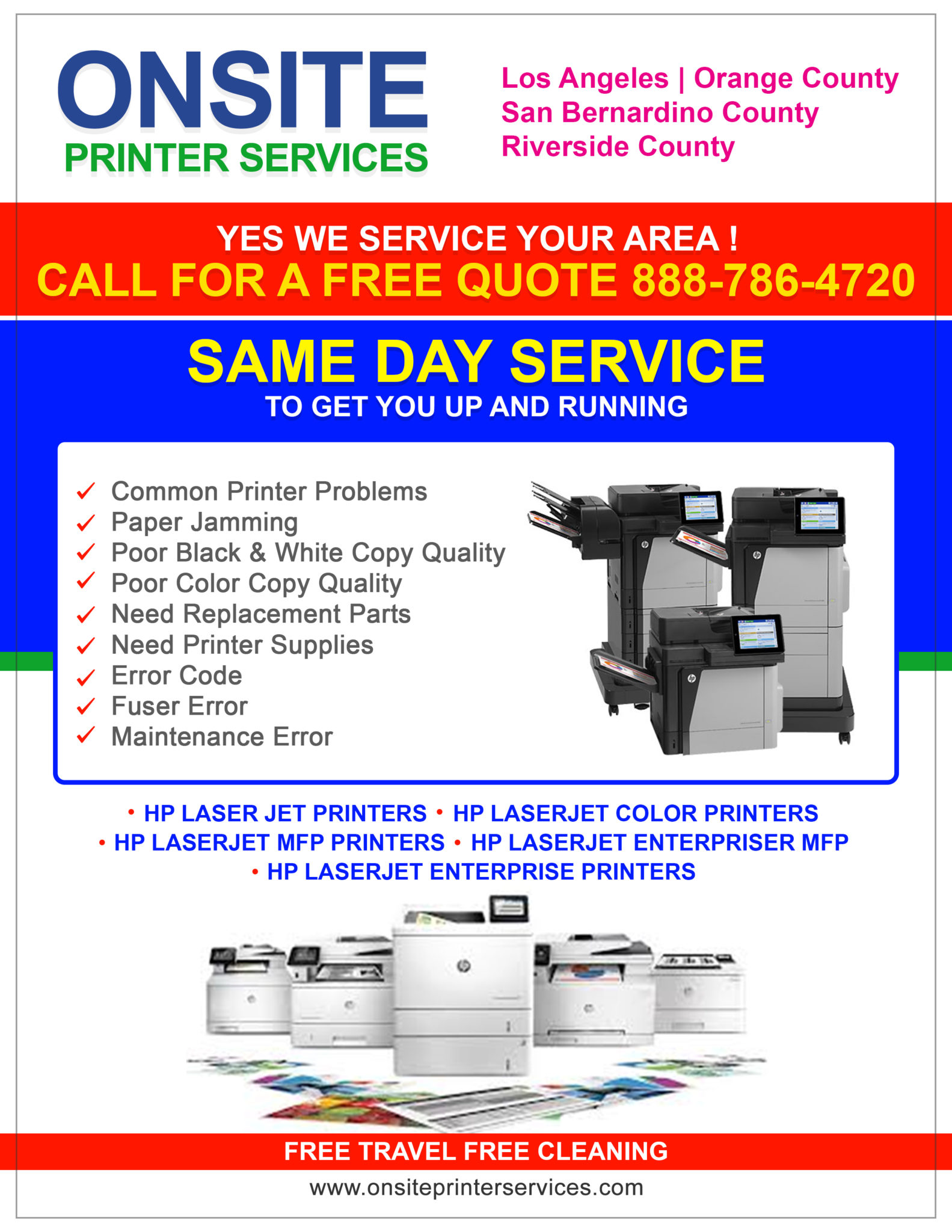 Ontario HP LaserJet Printer Maintenance Kit
Onsite Printer Services provides HP laserJet Printer Maintenance Kit in Los Angeles, Orange County, Riverside County and San Bernardino County. HP printer maintenance kits ensure your HP printer remains in working condition and continues to provide you with the highest print quality possible. Maintenance Kit Maintain print quality and prevent paper jams with original HP replacement parts. Maintenance kits include a fuser assembly, transfer roller, tray pick up rollers for the paper trays.
Maintain productivity
Get optimal print quality and keep your printer or multifunction product (MFP) up and running smoothly with Certified HP Genuine Long Life Consumables (LLCs), including fuser kits, image transfer kits, toner collection units (TCU), and automatic document feeder (ADF) maintenance kits. When your printer prompts you that it needs maintenance, simply pull out the kit and replace parts as needed.
Fuser kit
The fusing assembly in your HP device bonds toner to paper through a combination of heat and pressure. Replacement of your device's fusing assembly is simple with the HP Fuser Maintenance Kit.
Transfer kit
Although your HP device's original transfer belt and drum are built to last, they wear down over time and may require replacement. An HP Image Transfer Kit has everything you need to ensure your device keeps delivering optimal print quality.
ADF maintenance kit
Your HP device's ADF makes scanning and copying documents fast and simple. Stay productive and keep your ADF working properly with an HP ADF Maintenance Kit.
Toner/Ink collection unit
HP utilizes several different methods to collect unused toner, paper fibers, and dust in the imaging system. Some TCUs are built into our all-in-one cartridges; others are physically incorporated into an LLC or packaged with a maintenance kit.
The TCU is an easy-to-replace, high-yield HP supply designed to reduce user-intervention rates. On many devices, the printer control panel provides a proactive alert when the TCU is approaching its end of life and you need to order a replacement.
HP Color LaserJet Enterprise M553dn, HP Color LaserJet Pro MFP M479fdn, HP Color LaserJet Enterprise M653dn, HP Color LaserJet Enterprise M653x, HP Color LaserJet Enterprise MFP M681dh, HP Color LaserJet Enterprise MFP M681f, HP Color LaserJet Enterprise Flow MFP M681f, HP Color LaserJet Enterprise M652n, HP Color LaserJet Enterprise M652dn, HP LaserJet Enterprise M607n, HP LaserJet Enterprise M607dn, HP LaserJet Enterprise M608n, HP LaserJet Enterprise M608dn, HP LaserJet Enterprise M608x, HP LaserJet Enterprise M609dn, HP LaserJet Enterprise M609x, HP LaserJet Enterprise Flow MFP M631h, HP LaserJet Enterprise MFP M631z, HP LaserJet Enterprise MFP M632h, HP LaserJet Enterprise MFP M632fht, HP LaserJet Enterprise MFP M633fh, HP LaserJet Pro M501dn, HP Color LaserJet Enterprise MFP M577f, HP Color LaserJet Enterprise MFP M577dn, HP LaserJet Enterprise 700 Printer M712xh, HP LaserJet Pro MFP M521dn, HP LaserJet Enterprise 700 Printer M712n, HP LaserJet Pro 500 color MFP M570dn, HP Color LaserJet Enterprise Flow MFP M577z, HP Color LaserJet Professional CP5225dn Printer, HP LaserJet Enterprise MFP M725dn, HP Color LaserJet Professional CP5225n Printer, HP LaserJet Enterprise 700 Printer M712dn, HP LaserJet Enterprise M806dn Printer, HP Color LaserJet Enterprise M553n, HP Color LaserJet Enterprise M553x, HP LaserJet Enterprise 700 color MFP M775f, HP Color LaserJet Enterprise Flow MFP M681z, HP Color LaserJet Enterprise Flow MFP M682z, HP LaserJet Enterprise 700 color MFP M775z, HP LaserJet Enterprise Flow MFP M632z, HP LaserJet Enterprise M507n, HP LaserJet Enterprise M507dn, HP LaserJet Enterprise M507x, HP LaserJet Enterprise MFP M528dn, HP LaserJet Enterprise MFP M528f, HP LaserJet Enterprise Flow MFP M528c, HP LaserJet Enterprise Flow MFP M528z, HP Color LaserJet Enterprise M751n, HP Color LaserJet Enterprise M751dn, HP Color LaserJet Enterprise flow MFP M880z, HP Color LaserJet Enterprise Flow MFP M776z, HP Color LaserJet Enterprise M856dn, HP Color LaserJet Enterprise M856x, HP Color LaserJet Enterprise MFP M776dn, HP Color LaserJet Enterprise Flow MFP M776zs, HP Laserjet 4000,HP LaserJet 4050,HP LaserJet 4100,HP LaserJet 4200,HP LaserJet 4240,HP LaserJet 4250,HP LaserJet 4300,HP LaserJet 4350,HP LaserJet 5000,HP LaserJet 5100,HP LaserJet 8100,HP LaserJet 8150,HP LaserJet P2015dn,HP LaserJet P2035n,HP LaserJet P3005,HP LaserJet P3005d,HP LaserJet P3005n,HP LaserJet P3005dn,HP LaserJet P3005x,HP LaserJet P3015d,HP LaserJet P3015dn,HP LaserJet P3015x,HP LaserJet P4014n,HP LaserJet P4015n,HP LaserJet P4015x,HP LaserJet P4515n,HP LaserJet P4515tn,HP LaserJet P4515x,HP LaserJet 700 Printer, HP LaserJet M806 Printer, HP LaserJet 400 Printer, HP LaserJet 600 Printer, HP Color LaserJet M651 Printer, HP Color LaserJet M750 Printer, HP Color LaserJet M855 Printer, HP Color LaserJet CP4000 Printer, HP Color LaserJet CP5000 Printer, HP LaserJet 200 color Printer, HP LaserJet 300/400 color Printer, HP LaserJet 500 color Printer, HP LaserJet Enterprise M600 Series M601, M602, M603, M604, M605, M606 printers, HP Color LaserJet Pro MFP M479fdw, HP Color LaserJet Pro MFP M281fdw, HP Color LaserJet Pro MFP M180nw, HP Color LaserJet Pro M254dw,
91761 – Ontario, CA,91764 – Ontario, CA,91730 – Rancho Cucamonga, CA,91762 – Ontario, CA,91752 – Mira Loma, CA,91710 – Chino, CA,91786 – Upland, CA,91763 – Montclair, CA,92880 – Corona, CA,91708 – Chino, CA,92860 – Norco, CA,91701 – Rancho Cucamonga, CA,92337 – Fontana, CA,91784 – Upland, CA,91737 – Rancho Cucamonga, CA,