Kern County -Ca HP DesignJet Plotter Printer Repair | Service
May 10, 2021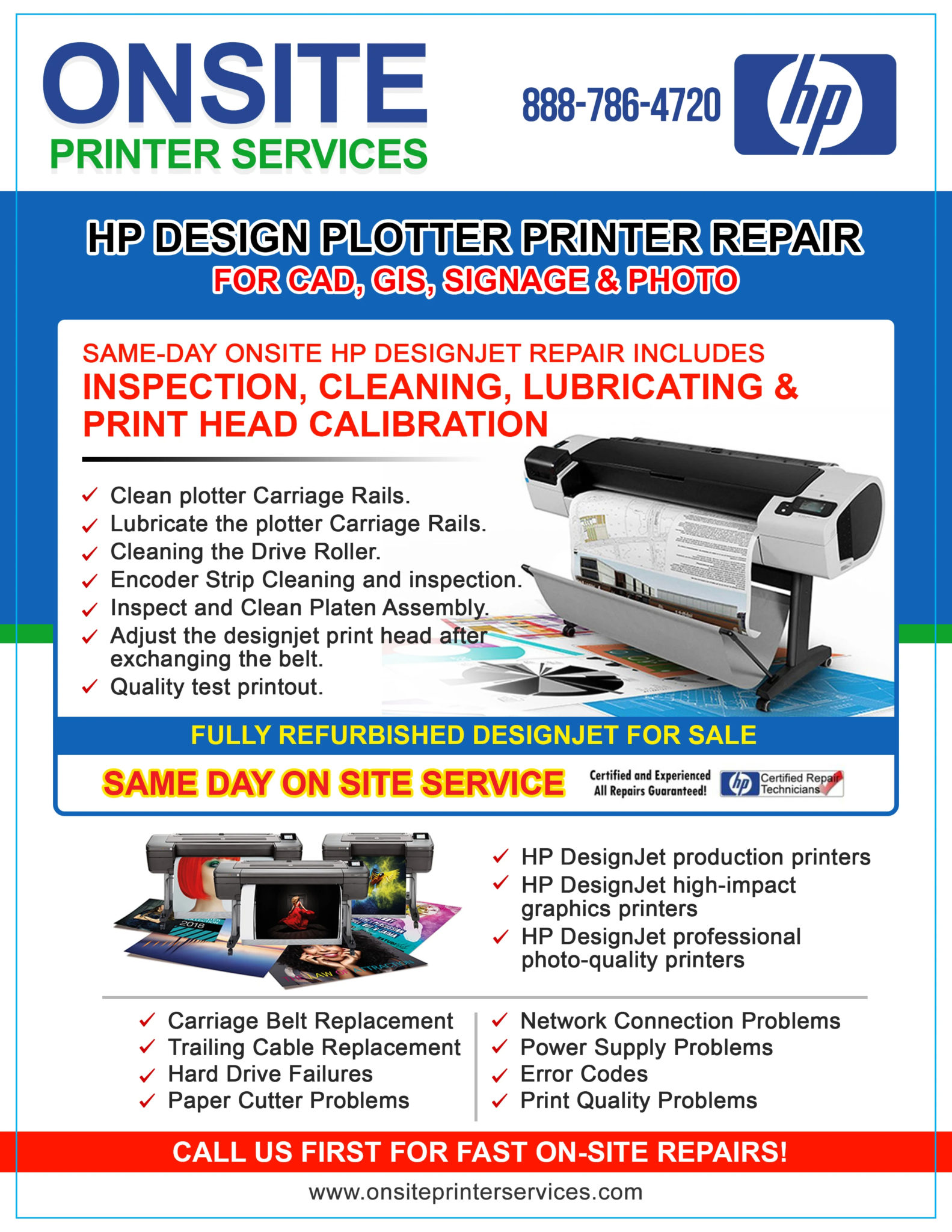 We can prolong your HP Design-Jet Plotter life by inspecting, cleaning, lubricating, repairing and calibrating!
HP DesignJet Plotter Service & Maintenance
Clean HP DesignJet Plotter Carriage Rails.
Lubricate the HP Design-Jet Plotter Carriage Rails.
Cleaning the HP DesignJet Drive Roller
DesignJet Encoder Strip Cleaning and inspection.
Inspect and Clean the HP plotter Platen Assembly.
Clean the entire HP Design Jet plotter/printer.
Calibrate the HP plotter print head after replacing the belt.
Calibrate the Color after the plotter service is performed.
HP DesignJet plotter quality test printout.
Common Replacement Parts
Replace broken belts
Ink tubing system
Purge the ink tubing system
Carriage Assembly
Trailing cable
Replace service station.
Industries we do repairs on HP DesignJet Plotter Printers
Architecture & Engineering
Construction
Manufacturing
Education
Government & Military
Corporate
Office hp DesignJet Printers
High-impact Graphics hp DesignJet Printers
Production hp DesignJet Printers
Professional photo-quality hp DesignJet printers
HP DesignJet Plotter Large Format Printer Repair | Services
HP Designjet T120,HP Designjet T520,HP Designjet T790ps,HP Designjet T795,HP Designjet T920,HP Designjet T920ps,HP Designjet T1300ps,HP Designjet T1500,HP Designjet T1500ps,HP Designjet T1700,HP Designjet T2500 eMFP,HP Designjet T3500 eMFP,HP Designjet T7200,HP Designjet T610,HP Designjet T790,HP Designjet T1100,HP Designjet T1100ps,HP Designjet T1100mfp,HP Designjet T1200,HP Designjet T1300,HP Designjet T2300 eMFP,HP Designjet T7100,HP DesignJet T830,HP DesignJet T650,HP DesignJet T730,HP DesignJet T630,HP DesignJet T250,HP DesignJet T230,HP Designjet Z2100,HP Designjet Z3200,HP Designjet Z3200ps,HP Designjet Z5200ps,HP Designjet Z5400ps,HP DesignJet Z5600,HP Designjet Z6200,HP Designjet Z6600,HP Designjet Z6800,HP Designjet Z6,HP Designjet Z9+,HP Designjet Z6600,HP Designjet Z6800,HP Designjet Z3100,HP Designjet Z3100ps,HP Designjet Z3100ps GP,HP Designjet Z6100,HP Designjet Z6100ps,HP Designjet 500,HP Designjet 510,HP Designjet 800, HP Designjet 800ps, HP Designjet 5500, HP Designjet 5500ps
HP Latex Printer Repair | Service
HP Latex 280 Printer, HP Latex 310 Printer, HP Latex 330 Printer, HP Latex 360 Printer, HP Latex 370 Printer, HP Latex 3000 Printer, HP Latex 3100 Printer, HP Latex 3500 Printer, HP Latex 820 Printer, HP Latex 850 Printer,
Kern County -Ca
HP Designjet Plotter Printer Repair Arvin
HP Designjet Plotter Printer Repair Bakersfield
HP Designjet Plotter Printer Repair California City
HP Designjet Plotter Printer Repair Delano
HP Designjet Plotter Printer Repair Maricopa
HP Designjet Plotter Printer Repair Mcfarland
HP Designjet Plotter Printer Repair Ridgecrest
HP Designjet Plotter Printer Repair Shafter
HP Designjet Plotter Printer Repair Taft
HP Designjet Plotter Printer Repair Tehachapi
HP Designjet Plotter Printer Repair Wasco